In Los Angeles, earthquakes and strong winds are unfortunately a fairly common occurrence. While these, more often than not, don't necessarily give us significant issues, providing a strong support system to the large trees you have on your property is never really a bad idea. Unsupported trees, particularly those weakened by age or inclement weather, pose a safety hazard to your home or business if left to fend for themselves at times of increased stress. Even a minor tremor or slightly strong winds can bring down a branch or a stem onto your home or property. A simple tree cabling service or a tree bracing job can help prevent unexpected damages and provide a reliable support system to any tree. In order to help your large trees survive all sorts of external forces, tree cabling in Los Angeles can be a good call.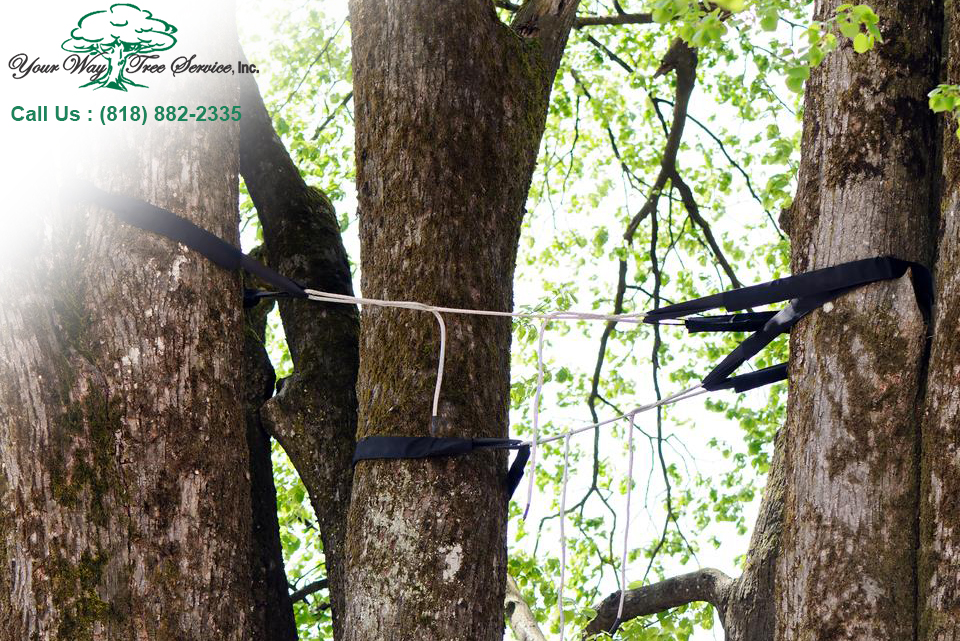 What is Tree Cabling?
Tree cabling consists of extra high strength cables (usually made out of steel). These are attached to bolts installed near the upper crown of the tree on one end and to the ground on the other. This helps reduce the overall movement of the trunk and the larger branches, limiting it to a safe range and preventing potential breaks or falls in the structure. While these are not necessarily the best option for just about any tree, they are always installed after a careful examination in which cabling experts analyze the tree's overall structure, as well as the trunk's strength, in order to determine whether or not cabling is good for the tree at hand.
Planning for Tree Cabling
Here at Your Way Tree Service, we provide this consultation session for free, in order to promptly give you an estimate and an intended plan of action. After all, we want you to feel confident about the structure and sturdiness of your trees in case they are affected by forces beyond your control. What's the harm in contacting us for a free consultation? This might seem to you like an over-complicated task is, but for us? This is just another day of work. Once we are all on the same page in regards to the job that needs to be done, we will show up on time to your property in order to meet your expectations to your liking and provide excellent tree cabling services.
Contact Tree Cabling in Los Angeles
We hold all of the supplemental support systems we use at Your Way Tree Service to the highest industry standards, ensuring durability and quality to every case we handle. Our customer testimonials speak for themselves. Those who have employed our cabling services across our many years of experience have been more than satisfied with the results. If you need tree cabling done, or anything related to such, don't hesitate to fill out the contact form available on our website or call us at (818) 888-9248. We will give you a free estimate and be there to carry out the task at your earliest convenience.