Hiring a tree trimming service is vital to prevent any injuries as a result of falling trees and branches. Keep in mind that a dangerous tree can post great risk in your property if it falls on your garage, home or  an individual.
However, the majority of homeowners are not sure how to stop a dangerous tree in their yard. No worries, though, as this post will help you in determining which of those trees in your yard is dangerous. When you heed our tips, you can finally protect, not just your property but also your family.
What to Look for When Identifying a Dangerous Tree
There are several risks in living under a large tree. Any tree can look healthy. However, some factors, like ice storms and excessive rainfall, can cause them to crackle and fall.
Trees that can present danger will often have signs and symptoms that are visible to your human eyes. When you understand those signs, you can easily spot dangerous trees. Once spotted, make sure to hire a tree trimming service to either prune or cut them.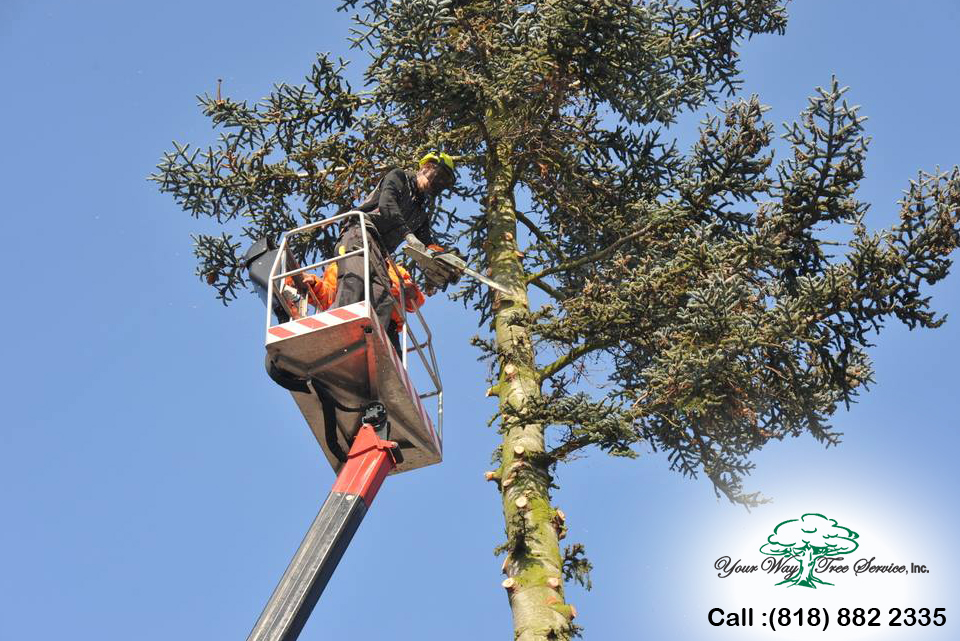 The trees in your property can offer tons of benefits. However, you must inspect them regularly, i.e. after every season. In that way, you can spot any signs that might endanger your property. It is also vital to inspect the trees after heavy snow or rain.
See the Whole Tree
When inspecting a tree, you must see the entire tree at once. In that way, you will know whether or not it is leaning in one direction.
It also helps you find some dead branches that are still hanging from it. These are signs that you need to call a professional arborist, like Your Way Tree Service.
We can inspect the overall tree and find any safety hazards. If we detect a dangerous tree, we do not recommend cutting it entirely. Instead, we inspect it further to know the best solution.
Inspect the Ground
After inspecting the overall health of the tree, it is vital to inspect the ground and evaluate its root system. The most visible part is the anchoring root that supports the tree.
Another type of tree root is the absorbing one that hides below the ground. This root provides the tree the nutrients it requires from the soil.
When inspecting the ground, look for any rots or decay in the anchor roots. If the roots are disintegrating, they could cause threatening issues, even though the overall tree appear strong and healthy. It can fall at any time if its base decays.
Our tree experts will pull back the ground cover to examine closely. Seeing raised soil could indicate that the tree is dangerous. Then again, it does not necessarily mean you need to cut it.
Let Us Inspect the Tree in Your Property
Inspecting or spotting a dangerous tree can be quite tricky if you are not an expert. Thus, it is vital to simply leave it to the experts at Your Way Tree Service. Our tree trimming service involves tree inspection, trimming and cutting. Feel free to call us to get an estimate (818) 888-9248.