Tree removal in Northridge is a vital service for several circumstances, especially when the trees have cracks. Last year, a huge tree toppled onto a house on Saturday afternoon in Northridge. A building safety team consisting of tree removal experts was sent to the house. 
It is one of the scenarios where the services of a tree removal company become a vital part of the safety of residents. 
At Your Way Tree Service, our team is often called to a property or business after a strong storm. We will assess the situation first before we perform a tree removal service. In this way, we can carry out the project in the safest way possible.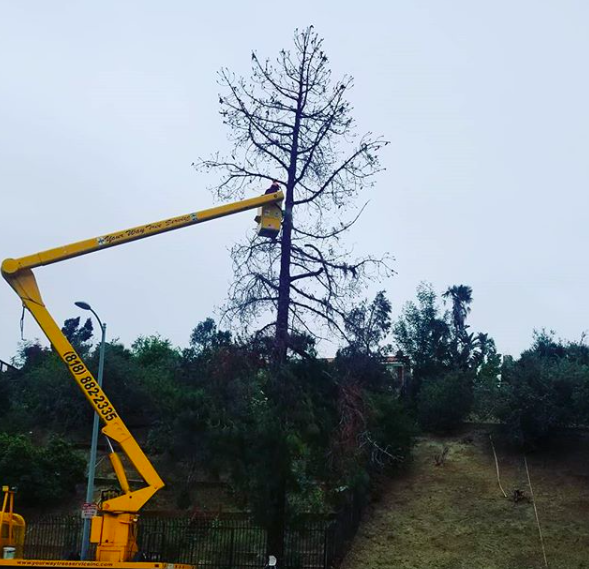 The Value of a Tree
Trees do not only add beauty to your property but it also adds value to it. They offer many benefits, like keeping your home cool by providing protective shade. During winter, trees will keep your home warm as they can lower the effect of wind. 
Although trees are beneficial to any property, be it commercial or residential in Northridge, they can be a liability. If there are questionable trees that hang over your home or business, call our tree removal team to evaluate your situation. Never take this for granted. If you leave it hanging, it can interfere with your home's foundation. 
Our team consists of certified arborists with years of experience assessing a tree situation before recommending a certain tree service. 
Tree Removal In Northridge
Service for Damaged Trees 
You may have trees with diseases. If they are not treated, they can be uprooted. They may fall on your building or house resulting in expensive property damage and human injuries. 
To avoid it from happening, make sure to call our tree service in Northridge. Our certified arborists will remove any trees that are too diseased or they may only treat them. 
Some of our customers would call us to remove the trees in their backyard as they are planning to expand it. Perhaps, they want to build a swimming pool. Whatever the reason, our tree experts can help. 
Our certified arborists have been in the business for many years. We have years of experience to help us determine the proper way to assess a tree to give our clients a proper recommendation. 
Our goal here is to give our clients excellent tree removal services that meet their specific needs. Trees with cracks can be dangerous. But not all trees with cracks can cause harm. That's why the trees must be assessed to determine the type of free service that they need. 
Work with our certified arborists at Your Way Tree Service to take care of the trees on your property. We utilize state-of-the-art equipment to ensure that we can remove the tree from your property safely and quickly. 
At Your Way Tree Service Inc., we are your tree removal service in Northridge to solve the trees with cracks in your property. Our staff is fully licensed, insured and bonded. We have more than a decade of experience working in Northridge and neighboring community. To find out more about our tree removal Northridge service, please give us a call at (818) 888-9248.