Palm trees are of different types. But no matter what type of you have in your yard, it still requires pruning regularly. You may be thinking of pruning it by yourself. But don't. Rather, opt to call our palm tree removal service to help you prune the tree properly.
But when is the best time to prune palm trees? Unfortunately, palms do not follow pruning schedule. The reason for this is that it only depends on the tree's appearance. In that case, there is no best time to call a tree trimming service. Rather, you must schedule a regular maintenance.
That's why it is vital to call a tree trimming service, like Your Way Tree Service, to examine and inspect the palms in your property. Our experts can determine whether or not your palm tree requires pruning to eliminate those brown leaves, fruit or flowers.
However, we recommend examining the palms before the hurricane season starts. Call our tree experts to remove dead fronds. They can cause damage to your property or individuals during a strong storm.
Proper Method in Trimming a Palm
The rule of thumb here is to only prune those dying fronds and the green leaves must remain. Removing more fronds than when necessary can cause a lot of stress to the overall tree. It is especially true if the palm trees are tall.
When your palm tree needs trimming, make sure to call our certified arborist to prune the tree safely.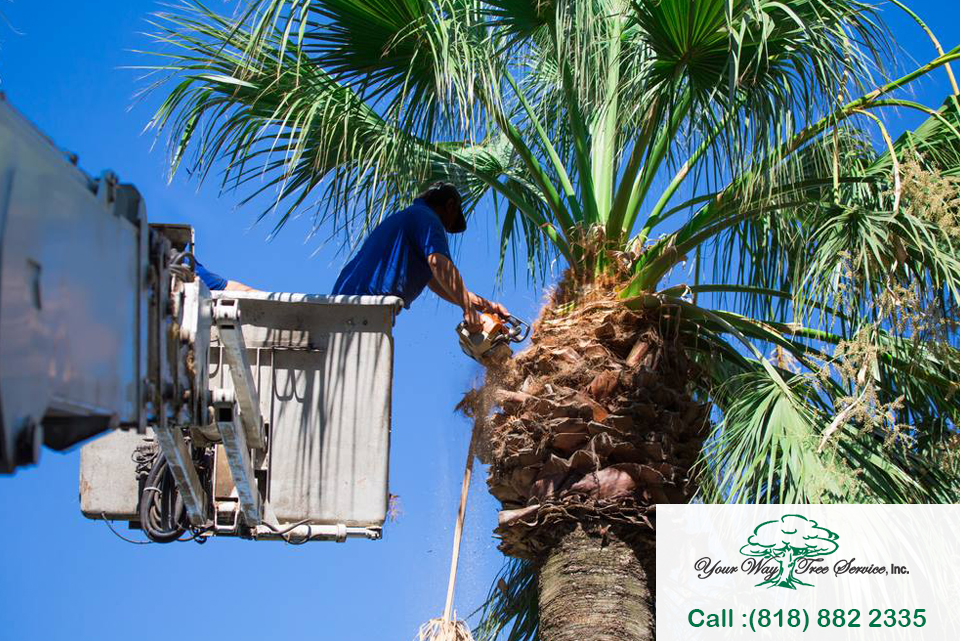 During the summer season, it is not a good idea to prune your palm tree. Even though those dead leaves are unattractive, they can still protect the tree from heat.
Hiring a Professional Palm Tree Removal Service
Our certified arborists are trained in the art of maintaining palm trees. They are equipped to deal with small and large palm trees the proper way.
Now, if your palm tree requires removal as it no longer feels safe even with pruning, our arborists can bring it down. We have the necessary equipment to remove it without causing damage to your property.
If you wish, we can replant another tree after we have removed the dangerous palm tree. Your Way Tree Service employs certified arborists to help clean and maintain your palm trees. We can ensure that they always look healthy and beautiful.
Keep in mind that palm trees are difficult to maintain. If you employ incorrect pruning method, you are killing it, rather than helping it survive. With our expertise, you can be sure that there is no harm done to your palm tree.
Emergency Tree Service
Palm trees and their branches can come down anytime. However, if the tree lies flat across your property, then it is time to call our emergency tree service at Your Way Tree Service.
Our palm tree removal service will respond to your emergency situation at any time. With this service, we can help your property get back to normal. Our certified arborists will remove the dead palm tree and prevent any damage or hassle to the property. Call our experts today for scheduling (818) 888-9248.