Tree removal Sherman Oaks service of Your Way Tree Service ensures that the trees on your property are ready for any harsh weather. This is vital because even harmless windy day can easily make your tree hazardous to your family.
The good thing is that trees are easy to inspect. With regular examination, any potential hazard can be mitigated.
The best times to call a tree trimming or removal service are fall and winter. But is a tree removal service necessary?
Our arborists at Your Way Tree Service will not cut and remove your trees without first inspecting them. Inspection is pertinent to find any signs that the trees are dying or infected with a disease.
After inspection, our arborists may recommend removing dead limbs, rather than the entire tree removal.
Removing the dead limbs can take a lot of time. That's why you need to leave this job to the pros.
Since the cold and harsh weather can weaken the tree, it is ideal to mulch your trees. Mulching is similar to giving it a warm blanket. It warms its soil's surface while it protects the room from the harsh weather in Sherman Oaks.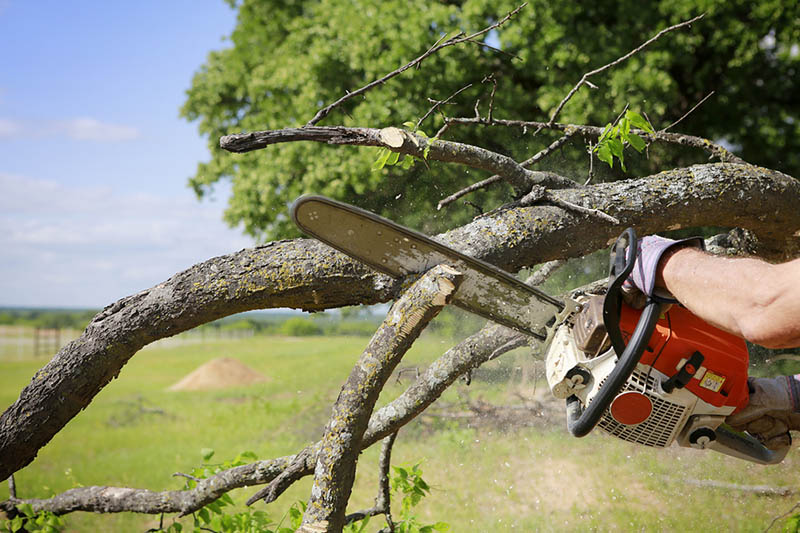 Cut Leaning Trees
But before cutting and removing leaning trees, our arborists will first determine whether the trees are a hazard.
Trees are vital in giving you comfortable temperature during harsh weather. However, if they are leaning to your home or some parts of your yard where your family gathers, then it is vital to consult our arborists. They can help address the issue first before deciding to remove them.
Apart from leaning trees, it is also vital that you watch trees that encroach on power lines. In Sherman Oaks, there are several instances where trees encroach on power lines that cause power outages in the entire neighborhood.
To lower your risk, it is vital that the trees in your property must remain a safe distance from the electricity lines.
Furthermore, it is vital that your trees do not encroach your home. The safe distance could be six feet from the power lines or your house.
Because limbs can touch power lines that may lead to a power outage, it is vital that you leave the tree trimming or tree removal  Sherman Oaks pros at Your Way Tree Service.
If the trees in your property require trimming or removal, make sure that you do not do it yourself. Doing so will only result in a poor outcome. Make sure to hire our arborists at Your Way Tree Service to get the job done the first time.
Unlike other tree removal services in Sherman Oaks, our company offers quality service and provides the best value for your money. If you have received a written quote from another company, we will beat it and offer you a more reasonable rate.
Never attempt to hire just any tree removal service. Make sure that you are getting the best service by hiring the most reputable tree service company. Check out our other tree services or get free estimates for your tree removal Sherman Oaks request: (818) 888-9248.